10 Best Google Adsense WordPress Plugins
10 Best Google Adsense WordPress Plugins
If you want to monetize your blog or website, one of the easiest ways to do it is with the help of Adsense. Let's read the 10 Best Google Adsense WordPress Plugins for 2022 to Easily Add Adsense Code.
The first thing you have to do is create an Adsense account with Google. Once approved, you have to integrate it into your website / blog.
How to Add Google Adsense to WordPress?
If you have a WordPress site, this can easily be achieved with the help of the WordPress Adsense plugin. If you go ahead and search for some great Adsense plugins for WordPress, you will be sure to find hundreds of plugins developed and advertised to be ideal for the job. But is it suitable for addressing your specific needs?
Today's opportunity, we present several options that can help you choose the best and most competent Adsense plugin for your WordPress site.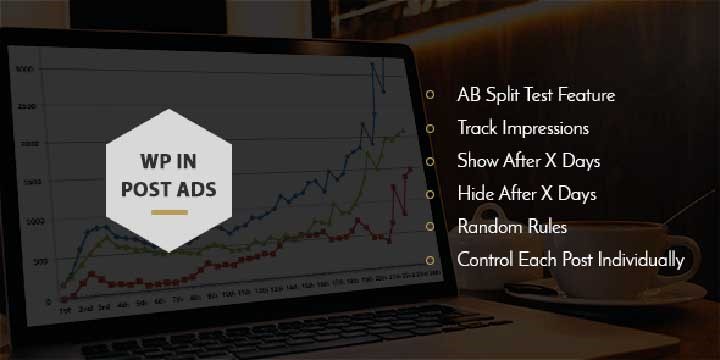 Another very powerful and feature-rich ad management system for your WordPress site is the WP In Post Ads Plugin. With this WordPress Adsense plugin, you can easily display your ads in all strategic locations, including after the post title, at the end of the content / post, after a certain number of paragraphs, and so on. Apart from that, the plugin uses shortcodes to display all ads which means you can place your ad anywhere on your WordPress site.
Another important feature is the option to show or hide ads after a certain period of time. You can also randomize where you want your ad to appear. This feature along with the built-in track impression monitor will allow you to experiment and find the right place for the maximum performance of your ad. There is also an option to display specific ads targeted at certain posts, to increase your Google Adsense revenue.

The plugin is free to use with many powerful features and also supports all types of ads. It not only supports Google Adsense ads but is also compatible with contextual Amazon Native Shopping ads, Media.net ads, even rotating banner ads.
Other impressive features are the option to include opt-in forms, header scripts, AMP ads, and much more. This Google Adsense WordPress plugin also has support for JavaScript, CSS, HTML, PHP, it will even help you with built-in analytics and ad-tracking.
You also have the option to advertise the code anywhere on your site so that you can place ads universally.
WP PRO Advertising System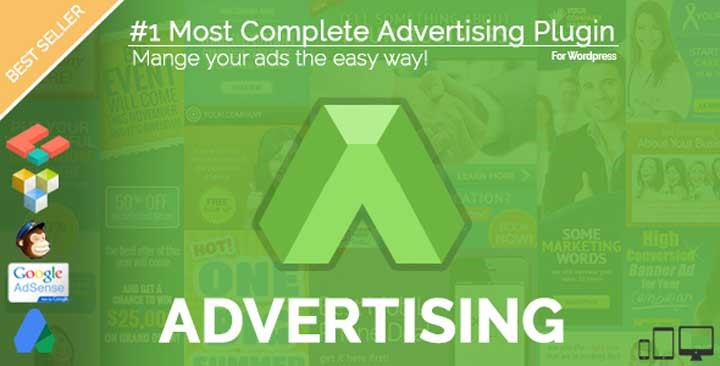 This plugin is an advertising management plugin for WordPress that offers 18 strategic locations to help you display ads on your site and increase your Google Adsense revenue. There is also a detailed statistics section to see how each ad is performing, helping you to improve your campaign and maximize profits.
This WordPress Adsense plugin is also equipped with a unique function called background ads. In addition, because it is compatible with plugins, such as Visual Composer and Revolution Slider, you can display ads in the form of a slider or place them anywhere using the VC page builder.

This plugin is the successor to the popular Quick Adsense plugin that dominated the market a few years ago. If you are a Quick Adsense user then WP QUADS allows you to migrate all your data and settings from the previous version to the newer version.
This plugin has support for AMP ads, the option to disable ads on individual devices, the ability to define specific sizes for ads on different devices, and much more. In addition, there is the option to insert ads individually or randomly anywhere in the post.
ADS PRO - Multipurpose Ad Manager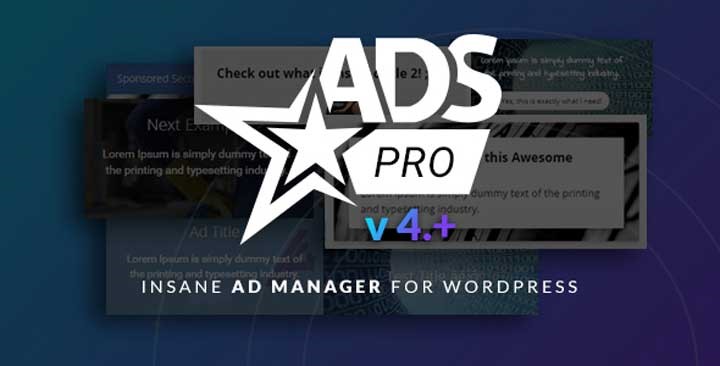 This plugin is a complete advertising management system for your WordPress site and is highly recommended if you are running a lot of ads on your site. Naturally, plugins are not limited only to Google Adsense but can be used with all Google Adsense networks.
You'll get access to a built-in template system that you can use to display your ad in more than twenty different ways. Other features include geotargeting of the ad to make it more relevant, the option to schedule ad appearance as well as make it disappear after a certain time.

Apart from support for Google Adsense, this plugin can also be used in almost all types of ads and networks. One of the plugin's most impressive features is the automatic AdSense violation check.
Some of the other features are the option to create and display unlimited ad units, rotate ads, schedule ads and set expiration dates. You can also target ads based on content and user groups which can lead to better ad performance.
An impressive feature that can increase your Google Adsense revenue is its function to prevent your site's destructive ad blocker while plugin scripts are running.

This plugin allows you to quickly insert Adsense or ad code into your blog or website. The plugin is easy to use and comes with a simple settings page.
This WordPress Adsense plugin can help you place up to a maximum of 10 ads on your sidebar widget or randomly across posts. This plugin is also compatible with many other ad portals and is not limited to Adsense.
Overall, if you want to use an intuitive interface along with the freedom to randomly place ads on your site then this is an excellent plugin.
This plugin uses a widget to display Adsense ads on your site. You will be able to drag and drop the ad widget onto the sidebar for your visitors to see.
This Google Adsense WordPress plugin is configured to help you select the case of text and image based ads. However, this plugin does not support video ads. This plugin is also designed to be beginner friendly.
WP Simple Adsense Insertion

WP Simple Adsense Insertion is a great plugin to manually place ads throughout your WordPress content. The plugin takes advantage of the shortcode functionality in WordPress to help you place your ad exactly where you want it. You also have the option to take advantage of the PHP functionality of your theme template files for manual ad sets.
However, the main selling point of this plugin comes with the fact that it can store up to 1 to 3 Google Adsense codes. This will allow you to place various advertisements via shortcodes throughout your website. You will also get the option to automatically insert the ad code in the article, either in the middle or at the end of the post.
If you don't want to meddle with all the options and technicalities that come with setting up Adsense on your website and want to have a simple automated solution to do the job for you, then Easy Google Adsense is worth considering.
You just install the plugin and the plugin is ready to use. All you have to do is enter your AdSense Publisher ID in the settings page and Google will automatically start showing ads at optimal times for maximum performance.
If this article is useful and helps you, don't forget to share it with your friends. greetings from Team

turtlebin.com